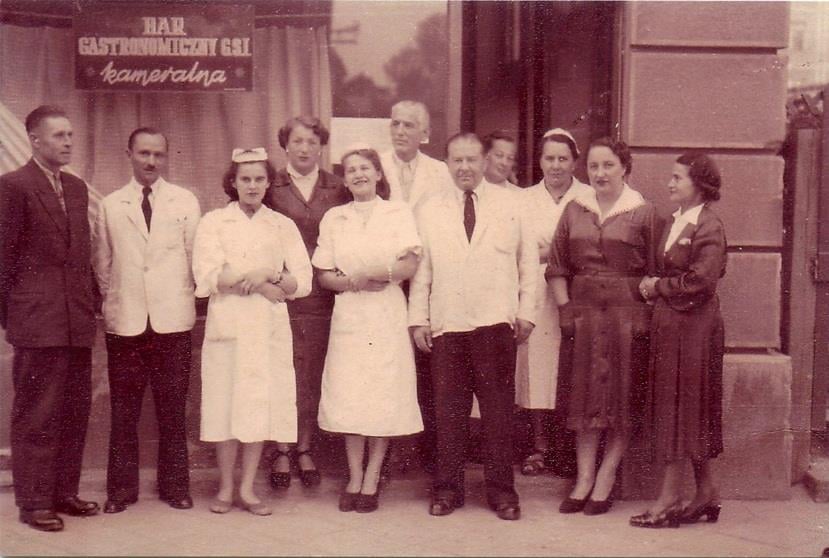 HISTORY OF THE KAMERALNA RESTAURANT AT KOPERNIKA 3 STREET - ONE OF THE MOST ICONIC RESTAURANTS IN WARSAW
Warsaw
A restaurant which traditions date back to the period of post-war Warsaw – this is
Kameralna
located at Kopernika 3 Street. For many years it has enjoyed unwavering popularity among the residents of the capital.
Leopold Tyrmand, Marek Hłasko, Janusz Głowacki, Roman Polański, Edward Stachura or Agnieszka Osiecka had enthusiastic discussions about life and literature here. Because where if not here, in the Kameralna could the stark reality of the People's Republic of Poland be enriched with good vodka and snacks. Everyone wanted to be here, to dance and taste "the cognac with the southern fruit" – vodka with two cucumbers.
In the 90s this popular place disappeared as it could not adapt to the spirit of capitalism. Kameralna reappeared on the cultural map of Warsaw in 3 Kopernika st. luring guests with a big red neon sign.
Warsaw legendary restaurant
HISTORY OF THE KAMERALNA RESTAURANT
All of Warsaw knew Kameralna which existed from 1950s. to the beginning of the 90s. As Marek Hłasko wrote in "Piękni dwudziestoletni" ("Beautiful twenty-year-olds.") it is divided into three parts: the day part on Foksal Street, the second day part (referred to as "for the poor") on Kopernika street and the night part (referred to as "for the rich").
REMEMBERING THE OLD KAMERALNA
In contrast to the interwar period, in the new realities of post-war Poland, the function of literary cafeteria became more serious. In fact, in the 1950's it became the only place ideas could be exchanged and views confronted or discussed. Tiny, cramped apartments or rented rooms did not foster social meetings. There was a lack of literary salons.
Cafeterias, cafés and bars had become home substitutes of sorts, where one could meet everybody. People gathered in restaurants like Jontek, Harenda, Złota Rybka (Golden Fish), Kameralna and others. As the regulars would mention, everything was very cheap. Visitors would talk about literature, philosophy, life and women. They would drink vodka and have discussions. Those lively places were the center of social-cultural life. After the lifeless Stalin era people wanted to break out of the apathy.
The best cure for the greyness was alcohol, as the freeing and bonding element, but unfortunately, in the larger perspective, also destructive. The folly of youth, joy of life covering the still lasting memories of the occupation years, choking on one's own talent, success – it all compelled to drink.
Engagement in the world of art, love, the worries of youth, the joy of existence, contemplating death and afterlife, in many cases balancing on the edge of life and death – that was the other side of the coin. Many could not bear it. Disease and death thinned the ranks of the participants in meetings and polemics in the cafeteria. The places themselves changed, some have disappeared and the others are entirely different than the original. It's hard to find traces of the past of wealthy literary life, even in diaries and memoirs. And yet, the cafeterias played a role of artistic salons where literary anecdote was created and a legend was born.
KAMERALNA IN THREE VERSIONS
Kameralna was divided into three parts. Kameralna day hall one (in Foksal Street – just the hall between it and Kameralna Theatre), Kameralna day hall two, for the "poor" or "economical" in Kopernika Street across from the Skarpa Cinema (sometimes called the Kameralna for carters even though there were no carters) and the Kameralna night hall for the wealthy part of society (also at Foksal Street just a few steps away from the day Kameralna hall one). The innovation of this gastronomical and architectural idea was that drinking could start early in the morning in Kameralna hall two, then one could eat lunch in Kameralna hall one, enjoy oneself until the evening and then move to the Kameralna night hall to socialize - as Marek Hłasko wrote in "Piękni dwudziestoletni".
It should be noted that the Kameralna also had its two branches: in Rakowiecka Street and nearby Na Rozdrożu Square.
Among three Kameralna restaurants, one was especially noteworthy - the Kameralna night hall for a wealthy society where the eventful days were discussed. It was the trendiest night hall. Here entry would not be allowed without a jacket and a tie – it was an entry ticket, a sign of style and a confirmation of prestige. Like a spell, it would open the door before guests.This etiquette was dealt with in several different ways. Marek Hłasko would leave his velvet jacket, bought in the National Departement Store, in the dressing room in the Kameralna night hall. "That way, when I came I could immediately transform from a dirty slob into young man with a classic education and bright future, and I joyfully breezed in the room - he confessed. Edward Stachura on the other hand, replaced a tie with a weaved belt, and someone else even used a sock in a dramatic act of desperation.
Everyone wanted to come here. In contrast to the Kameralna on Copernicus st., where artists, money-changers, cabmen and prostitutes would sit side by side. Foksal Street was more expensive and elegant. At the entrance, in the cloakroom, Mr Mieczysław reigned supreme. Mieczysław, a very sympathetic gentleman and an incredible giant, never hit the guests. Instead, he would just sweep them together and throw them out the door with a strength of a tornado, so they slammed into the walls on the opposite side of the street. - said Hłasko.
The legend has become sentimental nowadays. Perhaps the events relevant to the researchers of literary artists are not stuck in the collective memory but instead, precious bit of madness, artistic or social fulfillment remain. The taste of the atmosphere has survived, however, it is hard to recreate and describe. "Writing" was always on the first place. The fun was only a pleasant addition and determinant of youth. The nitty-gritty is lost somewhere today, and only the aroma, the essence of poetic life is left. Because everything, even the feasts revolved around the high life.
WARSAW UNDERWORLD AND ARTISTS:
Artists, writers, sculptors, architects, one-day millionaires, the richest and the poorest all come to the Kameralna night hall. Here one could meet a Warsaw's underworld- private entrepreneurs, small-business owners, ladies and misses, and the whole artist world. Marek Hłasko, Ireneusz Iredyński, Krzysztof Mętrak, Jan Zbigniew Słojewski called Hamilton, Janusz Krasiński, Marek Nowakowski, Wojciech Frykowski, Zbigniew Domański who would borrow a white shirt, Stanisław Grochowiak, Roman Śliwonik, Zbigniew Jerzyna, who would be let in with hesitation, Jan Hamilsbach, Andrzej Brycht and many, many others. This night hall was a melting pot of representatives of all of Warsaw. Roman Śliwonik held the office of the demonic prince of the Kameralna hall. He was in his brave and fighting period at that time. He usually won the fights as, according to his rule, he always attacked first. There was a hint of nobility in his actions, however, because the poet usually fought in defense of women.
Edward and Józef. Aristocrats. "They were calm, reasonable, rather silent, smiling slightly and they never showed their emotions by wincing or gestures, ponderous, a bit pagan." - That is how Roman Śliwowik described Kameralna's bartenders in "Portraits with the buffet in the background" (published by Adam Marszałek, 2001). They could make a real spectacle of their work. They were friendly, watchful, understanding, sympathetic and they were artists in their profession. The cheerful waiter Edward and sad Józef were very kind for guests, even for the penniless writers. Occasionally they would take watches or even identity cards of the unlucky customers into a deposit. Of course, it was illegal but if a person skilfully asked, they would never meet with a refusal. Mr Józef took the timepiece and promised he would regularly wind it. One had to be with a good relationship with a barman to conclude a transaction in such temporarily cashless way. Mr Genio, a carriage driver who artists, would also accept this kind of agreements. His carriage with trusty "Baśka" often moving between Kameralna and Krokodyl. Mr Gienio services were often used by, among others, Tadeusz Kubiak or Jerzy Sokołowski.
"
MISTER EDITOR IS TIRED ALREADY "
Kameralna is not just ties, jackets and etiquette but also drunken brawls and mayhem. The checkers and the headwaiter watched over the public morality and keeping the peace in Kameralna- wrote Hłasko. Sometimes teeth were swept from the floor after fights. Then the headwaiter-mediator entertained and called: "Gentlemen! Smile and calm down." If any of the overly excited guests would not give up and militia had to be called, a culprit would get a temporary exclusion order decided by committee. This, apparently, terrible punishment taught respect and worked. However, sometimes patrol cars with "bananas" had to be called, that is with Civic Militia officers. The amusement level of guests was thought to be directly proportional to patrol cars. So in case of a small brawl, one patrol car would be called, a larger one meant one- up two cars. The upper limit had not yet been established- Hłasko explained.
Marek Hłasko describes many tragicomic events from "The Camera" He said one time Andrzej Roman and Paweł Minkiewicz carried a corpse and they were screaming: "Beware, we are carrying money!" This "corpse" was completely drunk Jerzy Cukrowski and his friends were taking him to the bar because the etiquette did not allow to take the money from the payer's pocket He also talked about a bloody fight started by a missed cucumber throw - beery Wojciech Frykowski, irritated with slow waiter, threw a vegetable at him. The projectile hit a barman, bounced off and then hit another person, which without much thinking decided to repay the barman and hit him at the head. So the battle began. Once again the law enforcement had to be called.
After every large fight the rowdy crowd was thrown onto the street and their coats, canes and hats followed. Checkers would wish them good night or said: "Mister editor is tired" A royal place and royal customs.
SORT OF BERMUDA TRIANGLE
The Kameralna day hall was visited mostly by actors of the nearby Polish Theatre, e.g. Władysław Hańcza, Tadeusz Fijewski, Stanisław Jasiukiewicz, Hanna Skarżanka or Halina Mikołajska and also writers like Henryk Bereza, Jerzy Andrzejewski, Janusz Głowacki, Józef Prutkowski who could not deny himself the pleasure of visiting the local even after another heart attack, Edward Stachura and the generation of "Modernity" and "Hybrids", and Zdzisław Maklakiewicz - the "host" of the place. Filmmakers, professors, sculptors, journalists, traders - the great representation of 60's Warsaw. Wonderful Mr Piotr - friendly checker who would often lend the money to writers. Ms Teresa who allowed some to drink on tab. Józio Gielo usually a guest of Kameralna "for the poor" but he needed just one trip to earn a little money for a delicious dinner, vodka and starter in "better" Kameralna. Professor Jan Zygmunt Jakubowski once met Gielo on the way and heard the following question: "Dear Professor, could you lend me 20 pln?". To which the professor answered: "Mr Józef, I will, but by God, when will you finally write your thesis about Peiper?" There is an anecdote regarding Tadeusz Peiper told by Zdzisław Łączkowski. One time on Sunday morning Peiper came to the Kameralna's bar on Foksal Street. He asked for pork knuckle and a shot of vodka. It was a pleasure to watch how the elderly man was eating his order with a great appetite. At that time the pork knuckles were huge in Kameralna. After eating Peiper paid the bill and gave a huge tip - 100 pln. I remember that the barmaid, also an elderly lady, resisted and did not want to accept this amount of money. Then Peiper, a poor member of Polish Writer's Union said: Please take it, I don't need the money, I have plenty("Poezja" no. 5).
And of course the Kameralna for poor. Here the plebs mixed with the aristocracy.
Certain rules were strictly followed, e.g. alcohol was never sold without appetizers. The cuisine was allegedly not only cheap but also very tasty. There was also no dark atmosphere of a poor restaurant. Previously mentioned Józio Gielo and Edward Skórzewski were frequent bar clients. Relatively short but popular trail on the Foksal Street was – as Zbigniew Jerzyna jokingly described it - a sort of Bermuda triangle, which started in the Kameralna day hall one, ran by the Club of the Journalists'Association and ended in the Kameralna night hall - Zbigniew Jerzyna describes. Anybody brave enough to come there, was immediately drawn into a chain of events and a mixture of fun, discussions and divagations. Although one would come here just for a while, the company would always made him stay longer. Foksal Street belonged to the most literarily prominent area. Practically at any time, the artistic and social life blossomed in at least in one of three Kameralna places. Penmen mention the day Kameralna and the Kameralna night hall with particular affection because everyone could come there. People were attracted to the interesting night and day events and the possibility to meet close friends, talk and fun with them. Visiting the Kameralna was a duty, a ritual, a gesture of coexisting and confirming the membership in the group of artists and significant, important people.
Will the new Kameralna, opened in October also deserve such a legend?
Written by:
Kameralna Restaurant
PUBLISHED: Aug 27th 2018