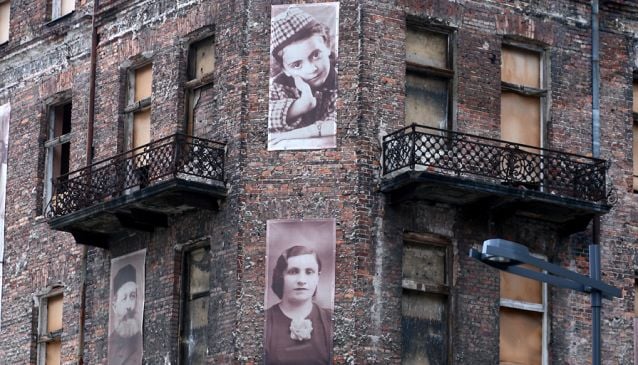 Jewish Warsaw's Trail of Memory
Editorial
...digging through the rubble of tragic wartime history and contemplating monuments to the dead
Home to a massive Jewish population said to be rivaled only by that of New York City, Warsaw was once a great centre of Jewish culture. Sifting through the debris of a ghost city, and the rubble of tragic wartime history, here My Guide looks back to the city Warsaw once was…
Home to a massive Jewish population said to be rivaled only by that of New York City, Warsaw was once a great centre of Jewish culture. This rich, thriving cultural life, whose development spanned centuries, is almost impossible to imagine today. If you search for Jewish Warsaw, you'll more than likely be sifting through the debris of a ghost city, digging through the rubble of tragic wartime history and contemplating monuments to the dead – to dead heroes, innocents, bystanders, and leaders, to a dead culture, to a dead era.
Walking through Jewish Warsaw , you do not observe the traces, the evidence, of this once-thriving culture; you do not revisit once-vibrant neighbourhoods and peek into a past world. The Holocaust destroyed the city and its people so completely, that all a visitor to Warsaw can really see today are the scars. One of the greatest tragedies of this destruction is that when we now say "Jewish Warsaw" we do not really mean the Jewish district, its Jewish inhabitants, their culture and their religion; Jewish Warsaw has become synonymous with a trail of monuments and ruins, memorials to the victims of the Holocaust.
How can it be otherwise, when destruction comes so suddenly and on such a massive scale – most particularly in Warsaw, which was bombed to rubble by one enemy only to be taken over by another, its entire population decimated by years of brutal occupation, by the 1944 uprising and its aftermath, by the massacres of civilians carried out in its wake, by the evacuation of the city and by the repressive years of the regime that followed.
To place the Holocaust in the context of all this is staggering, and renders its traces all the more haunting. You can stand on the Umschlagplatz, scanning the names of prisoners etched into the walls where they awaited their transport to an unknown fate; you can stand before the beautiful monument to the Ghetto uprising, immortalizing the masses of ordinary people who gave up their lives to take a stand against oppression; you can trace the outline of the ghetto walls, finding a few pieces of it still standing, shoved between old alleyways; you can come across plaques that mark the homes of historical figures and heroes, or the place of execution of thousands of victims.
The sensation evoked by these memorials is overwhelming, and it's no wonder that guidebooks, tours, historical timelines and the monuments of the city itself make it difficult to believe that the Jews of Warsaw are anything but people who appeared at the outbreak of the war, only to be annihilated – a tragic injustice to the memory of a long, fruitful, fascinating existence. In the face of its horrific end, we are unable to talk about, to imagine and to explore all the centuries that came before and their rich gifts to the city. But all this, hopefully, is changing.
If you start your tour of Jewish Warsaw with the Jewish Historical Institute , you will find not only an incredible collection of documents and artifacts gathered from the ghetto during the war, but also a rich display that brings to life nearly a thousand years of Jewish history in Poland. A centre of education as well as historical preservation, the Institute, together with remarkable landmarks and community centres like the Nozyk Synagogue, is active in the recent regeneration of Jewish life in Warsaw. As families both in Warsaw and abroad begin to investigate their Jewish heritage, now the repression and fear generated by the war and communist era are gradually fading, Jewish Warsaw is gathering momentum, with more and more people actively participating in religious life, getting involved in the Jewish community, and helping to organize Jewish culture festivals and other events that bring this major element of Warsaw's historical character back to life again.
While haunting war monuments and remnants of the pre-war city serve as a moving reminder of Jewish Warsaw's obliterated past, they also symbolize a presence that, even in the face of massive oppression, could not be wiped out. And this recent rebirth embraces the vibrant atmosphere and youthful appeal of the city itself – it is a city which has never given up, has resisted history's attempts to destroy it, and has resurrected itself, transforming into a memorial ground that resonates with echoes of the past yet overflows with an energy that is entirely new.
Written by:
Anna Maciejowska
PUBLISHED: Jun 9th 2017