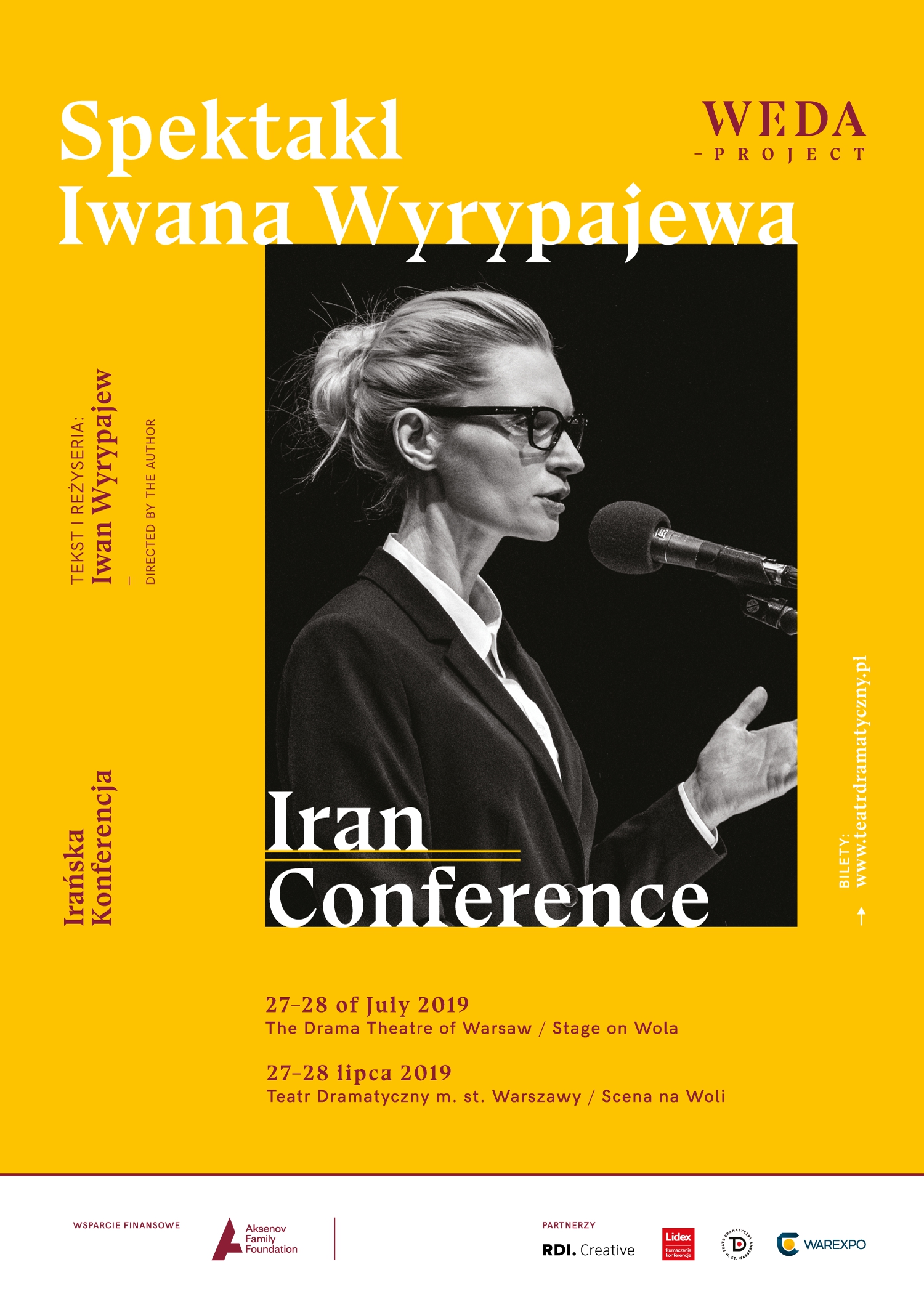 Iran Conference by Ivan Vyrypaev
warsaw
Sat Jul 27th 2019 to Sun Jul 28th 2019 at 19:00 until 21:00
---
Warsaw
,

ul. Kasprzaka 22

,

Warszawa

Warsaw
https://www.myguidewarsaw.com/events/iran-conference-by-ivan-vyrypaev
BOOK NOW
Event Details
Cast: Agata Buzek, Anna Moskal, Emilia Komarnicka-Klynstra, Redbad Klynstra-Komarnicki, Philip Mogilnitski, Patrycja Soliman, Justyna Kowalska, Magdalena Górska, Mariusz Zaniewski, Juliusz Chrząstowski, Michał Klawiter, Krzysztof Kumor, Richard Berkeley, Jan Hussakowski, Philippe Tłokiński
Director: Ivan Vyrypaev
Dates: 27 and 28 of July
Place: Warsaw Drama Theater, Stage on Wola, ul. Kasprzaka 22
Tickets: http://teatrdramatyczny.pl
The Iran Conference is a theater play in which the author presents to the viewer the clash of different views in today's discussion on religion, politics and social issues around the world. The place of action is Copenhagen, where nine specialists, representatives from various fields (journalism, literature, theology etc.) meet in the main university assembly hall to discuss the current situation in Iran and the Middle East. An attempt to present reports prepared by the lecturers quickly transforms into a lively conversation about spirituality, ethical dilemmas, personal experiences and even traumas related to the condition of humanity today. The play of Vyrypaev is an intimate poetic reflection about the world around us and ourselves.
The author deliberately and without simplifications draws portraits of all the characters of the Iran conference with respect for worldview's differences and, above all, in a sense of full trust and admiration for the viewers. According to the Russian critic Anton Hitrov, who writes for the Colta.ru portal, "The Iran conference is a rare kind of spectacle that keeps the viewer working constantly in the attempt of building counterarguments to any doubtful report. And not only working, but also enjoying the process". The performance becomes a unifying experience for recipients.
Ivan Vyrypaev (born in 1974 in Irkutsk) - the best-known and most frequently staged contemporary Russian playwright, theatre and film director, screenwriter, producer and actor. The New York Times has described him as 'Europe's most promising playwright'. After graduating from the Theatre Academy in Irkutsk, he has worked with theatres in Magadan, Kamchatka and Irkutsk. Since 2001 he has also been active in Moscow. In the years 2005-2016 he worked with the iconic Praktika Theater, where he was the artistic director (2013-2016). He has staged several dozen productions in leading theatres across Europe. One of his latest projects is Anton Chekhov's Uncle Vanya, staged at the Polish Theatre in Warsaw and considered Poland's best performance of 2017. Vyrypaev's dramas create a new type of communication with the viewers: the actors and the audience are aware of their mutual presence; the defective language becomes simultaneously poetic and metaphysical. His plays have been staged in the best theatres in the world.