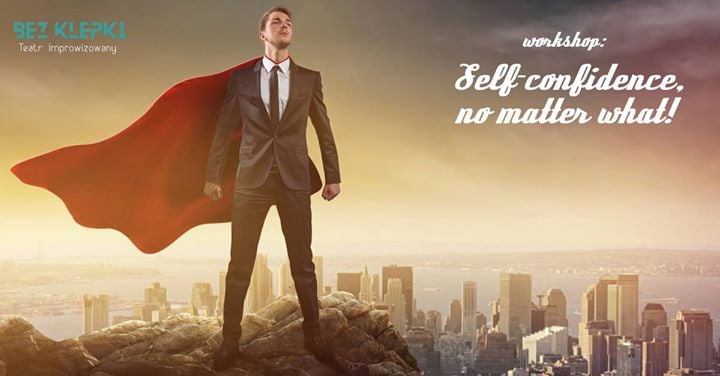 Self-confidence, no matter what!
Jaś & Małgosia
Wed Mar 14th 2018 at 18:00 until 21:00
---
Warsaw
,

al. Jana Pawła II 57

,

Warsaw

Warsaw
https://www.myguidewarsaw.com/events/self-confidence-no-matter-what
BOOK NOW
Event Details
Are there any situations in your life that you avoid? Are you scared, full of doubts or underestimating your abilities?

Most of us have such fields and situations.

The good news is that you can change it and significantly increase your confidence - thanks to improvisation.

Its essence is spontaneous creation, initiation of ideas and flexible response. Therefore, by improvising, you constantly enter new situations and learn by experiencing. In this way you build your confidence, courage in action and open yourself up to new opportunities.

We offer you a unique workshop based on the tools and foundations of theatrical improvisation. You will constantly practice the rules of creative communication, in improvised scenes you will improve flexibility and spontaneity of entering into new situations, you will learn attitudes and techniques, thanks to which your level of confidence will increase and you will also communicate and cooperate more effectively with others.

During this training you will experience and learn:
- natural reactions based on the improvisational principle of 'yes, and...', that is, accepting what has already been said and adding to it - in order to effectively create a coherent story
- to enter new situations with no preparation and deal with them, i. e. the improvisational attitude of 'listening and reacting' based on focusing at the present moment
- to accept mistakes and enjoy them, in accordance with the improvisational rule of 'I don't judge and let myself be carried away', i. e. spontaneously, lightly drawing on your creativity and maintaining self-confidence in every action

After this workshop you will:
- feel more confident in new situations and it will be more difficult to surprise you
- increase flexibility and spontaneity of your reactions
- learn effective attitudes and tools to make cooperation with others much more effective


BENEFITS OF IMPROV:

CREATIVITY
Being "here and now" opens up the storage of creativity that everyone holds inside, we just sometimes forget to access it as we perform routine tasks. It is worth checking what is hidden in these deposits.

SELF CONFIDENCE/COURAGE

Anyone who knows how to improvise will be able to cope with any situation, because it significantly increases the flexibility of their reactions, adaptation to new situations and spontaneity in action. What's more, in improvisation we can be different characters, we can check out different behaviors and enter into emotions, which are less frequently presented by us in 'normal' life. If you are a quiet and calm person – maybe it is worth to turn up the knob of "expression" and see what happens and how it feels. If you tend to keep a distance and be cool-headed, this might be a good chance to passionately express your feelings. Just for the sake of checking how it feels to do something differently.


JOY AND RELAXATION

The improvisation workshop is a lot of laughter, fun and relaxation. In a friendly atmosphere you can break away from everyday life.

If you've reached this point and you are still wondering if this workshop is for you, simply come along and check it out.

WHAT IS NEEDED
You don't have to have any experience of acting, theatre or improvisation in order to come and have fun at this workshop. It's worth having comfortable shoes and clothes.

Workshop price: 100 PLN

Purchase tickets through: https://selfconfidencenomatterwhat.evenea.pl/

Limited number of spaces available.