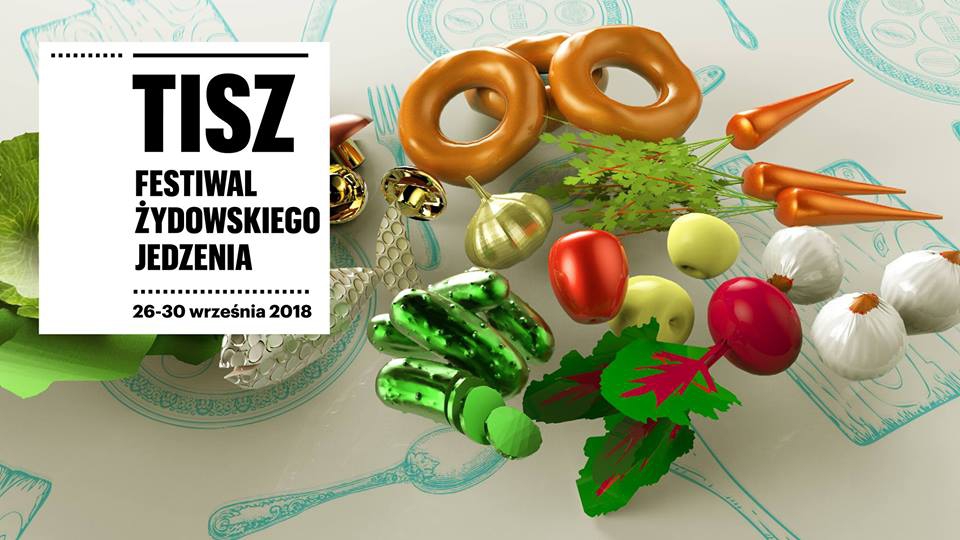 Event Details
We invite you to the first edition of the TISH Jewish Food Festival, September 26-30, Warsaw!

TISH* (yid. table) – in Jewish tradition, a cheerful time spent together, eating and drinking, talking and singing at a common table.

TISH Festival is not another sentimental postcard from the world that does not exist anymore. During both this and future editions we will present a contemporary view of culinary traditions, and food will be a starting point to a fascinating stories about Jewish citizens in Poland – now and then.

We want to meet you at tours, workshops, discussions, screenings and at a common table to cook, talk, laugh and taste Jewish food together!

Lovers of vegetarian food will be pleased to learn that the first edition of the TISH Festival will be devoted to vegetarian and vegan Jewish cuisine. This is in tribute to Fania Lewando, whose kosher vegetarian restaurant in pre-war Vilnius had many devoted fans among the local bohemians, including Marc Chagall. Fania singlehandedly attempted to revolutionize Ashkenazi Kosher cuisine by popularizing a vegetarian diet. One hundred years ago Fania, like many of our grandmothers, was a proponent of what today is called the "zero waste" philosophy and she wrote her cookbook according to the idea of "Tikkun Olam" – making the world a better place, not only for humans but for all living creatures.

The TISH Festival will be officially opened on Wednesday, September 26th, in the Auditorium of the Museum POLIN. On the evening of Friday, September 28th, we will invite you to a specially decorated main hall of the Museum POLIN for an extraordinary Shabbat dinner, prepared by one of the best chefs:

👨‍🍳 Aleksander Baron
👩‍🍳 Alessia Di Donato
👩‍🍳 Sabina Francuz
👩‍🍳 Malka Kafka
👩‍🍳 Laurel Kratochvila

You will taste dishes that have connected generations of Polish Jews, and that often had their mirror reflection in kitchens of non-Jewish neighbors. It will be a culinary performance and a delicious feast, accompanied by drink pairing by Katarzyna Federowicz.

During cooking classes at? Menora Info we will get a taste of what Jewish cuisine was (and is!) and together we will try to bring back the glorious taste of tzimmes and traditional Shabbat challah to Polish homes. Food tours will help you find the kosher stores, elegant restaurants and buzzy markets of pre-war Jewish Warsaw. We will see where people bought the best gefilte fish and sweet wine "Karmel", whose aperetif-like flavor the Polish writer Józef Hen described in his memoirs . Those searching for Jewish-Polish cuisine in Warsaw should book a place at the food tour – a walk that includes tasting along the way.

For the TISH Festival time Jewish food will be back again in Warsaw – in restaurants and bars you will be able to taste Jewish dishes, included in the menus and served especially for this event!

TISH Festival will take place during Sukkot–the Jewish holiday marking the end of the harvest and commemorating the Exodus. Religious Jews build sukkahs and there they pray, spend time and eat. We invite you to our sukkah to spend a nice time together during the first TISH Festival
Stay tuned!

Detailed program and tickets for selected events SOON.