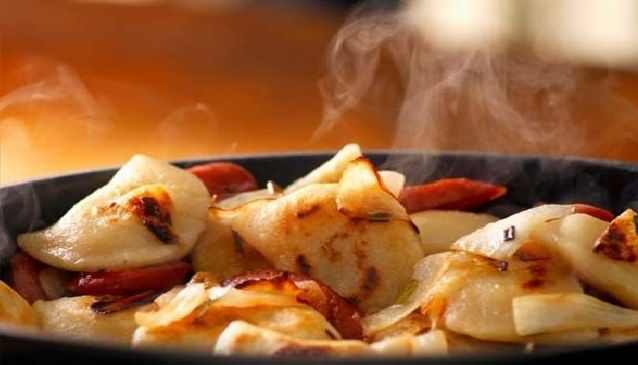 The Resurgence of Polish Cuisine
Food & Drink
...in recent years there has been a food revolution in Poland...
When considering international cuisine, Poland is not a country that immediately comes to mind when compared to established dishes from Italy, Spain and France etc. but in recent years there has been a food revolution in Poland which is changing the former stodgy, and uninventive image of Polish cuisine that was prevalent in communist times. Due to a lack of ingredients and food shortages as well as being cut off from countries west of Poland, the cuisine in Poland suffered but since the collapse of this system great changes have taken place. It can be seen especially in two of Poland's main cities, Krakow and Warsaw. Krakow restaurants have radically changed with much more variety than ever before as international restaurants have sprung up rapidly in recent years inspiring Polish chefs to raise their game. Warsaw restaurants have followed suit and have arguably raised the bar of quality and innovation even higher.
Local cuisine consists of soup such as tomato, chicken broth with noodles (rosol) and sour rye soup (zurek) with sausage. Dumplings come in many varieties including cheese and potato (ruskie), cabbage and mushrooms and meat. "Bigos" is a hearty stew consisting of sour cabbage and sausage, fried pork cutlet with vegetables (schabowy) is a popular dish as are potato pancakes with goulash (placki ziemniaczane po Wegiersku). Salads such as sour cabbage, carrot, and beetroot are usually grated and served with each dish. For desert, popular tasty treats are cheesecake (sernik), apple tart (szarlotka) or pancakes (nalesniki) with different sweet fillings.
Polish restaurants can be divided into three categories. There are still the communist-style "milk bars"; cafeterias with no-nonsense traditional food, something akin to a fast food restaurant but with food which is of superior quality. These are frequented by locals who stop by to quickly refuel and leave with a full stomach. The second option is a more relaxed type of restaurant which is modeled on the village or highlander style and is usually fitted out with a wooden interior complete with folk decoration. Here you can dig into large portions of slightly better quality food and not feel like you have to leave as soon as your plate is empty. The higher-class and third category is the new brand of Polish restaurant where more creative chefs promote modern adaptations of traditional dishes in fancy settings. It is the latter type that represents the resurgence in Polish food. Cookbooks such as From a Polish Country House Kitchen by Anne Applebaum and Danielle Crittenden have modernized the national cuisine and changed the way it is perceived. These changes have been recognized by Michelin, which awarded chef Wojciech Amaro with the Michelin Star in 2013, a first for Poland.
If you are in the capital and want to taste traditional Polish food with a modern touch, try Stara Kamienica which has all the traditional classics as well as European cuisine. Start with steak tartar or the sour rye soup with boletus mushroom, white sausage and hard-boiled egg. If you are interested in a Polish delicacy, the duck confit or pork shank pickled with honey beer are challenges for those with a demanding palette. The Café Blikle Restaurant has been serving up quality cuisine. History and tradition are strongly present in this long-lasting family business which was founded in 1869. The "General's Cake" with added marzipan is a bit of history as it was prepared especially for General Charles De Gaulle when he visited Blikle in 1967. Here you can try an array of Atelier Restaurant is another name to remember when it comes to top Polish restaurants. This the home of the Michelin awarded chef Wojciech Amaro.
From the high-end to the low, Polish cuisine is gaining a reputation for quality food. It is definitely worth trying all the categories of restaurants as each has their own taste to offer.
Written by:
Anna Maciejowska
PUBLISHED: Jun 9th 2017